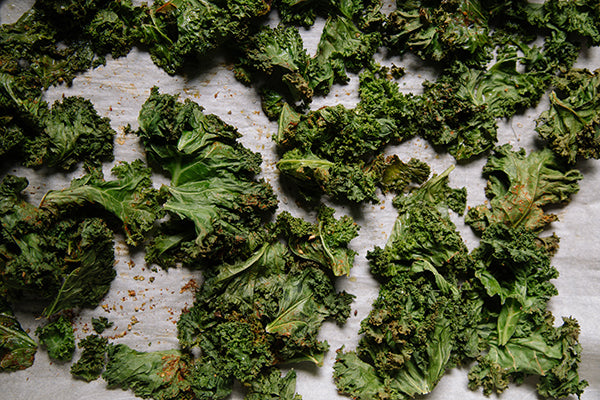 When following a keto diet, it's super important to get as many low-carb, low-starch veggies into you day as possible.
If you're after something a bit salty and a bit crunchy then you can try these crispy kale chips that you can make in your own kitchen in less than 30-minutes.
 Ingredients:

100g of curly kale ripped into bite-sized pieces
2 tbsp extra virgin olive oil
1 tsp fine sea salt
1 tsp each of any other herb/spices you want to flavour your chips with (optional)
Method:
Heat your oven to 140 degrees Celsius
Line two large oven trays with greaseproof paper
Wash and dry your kale, removing any woody stems
Put the kale in a large bowl and drizzle with the olive oil
Make sure the kale is evenly coated with the oil
At this point sprinkle over the sea salt and add any additional seasonings, here are some ideas for you to try…
Garlic powder
Paprika
Chilli powder
Cayenne pepper
Mild curry powder
Again, make sure the seasonings are evenly distributed and then spread the kale across the trays
Bake in the oven for 15-20 minutes until crispy, but still green
Leave to cool and crisp up more
The kale chips don't keep for long, but they're so tasty there probably won't be any left to store anyway!