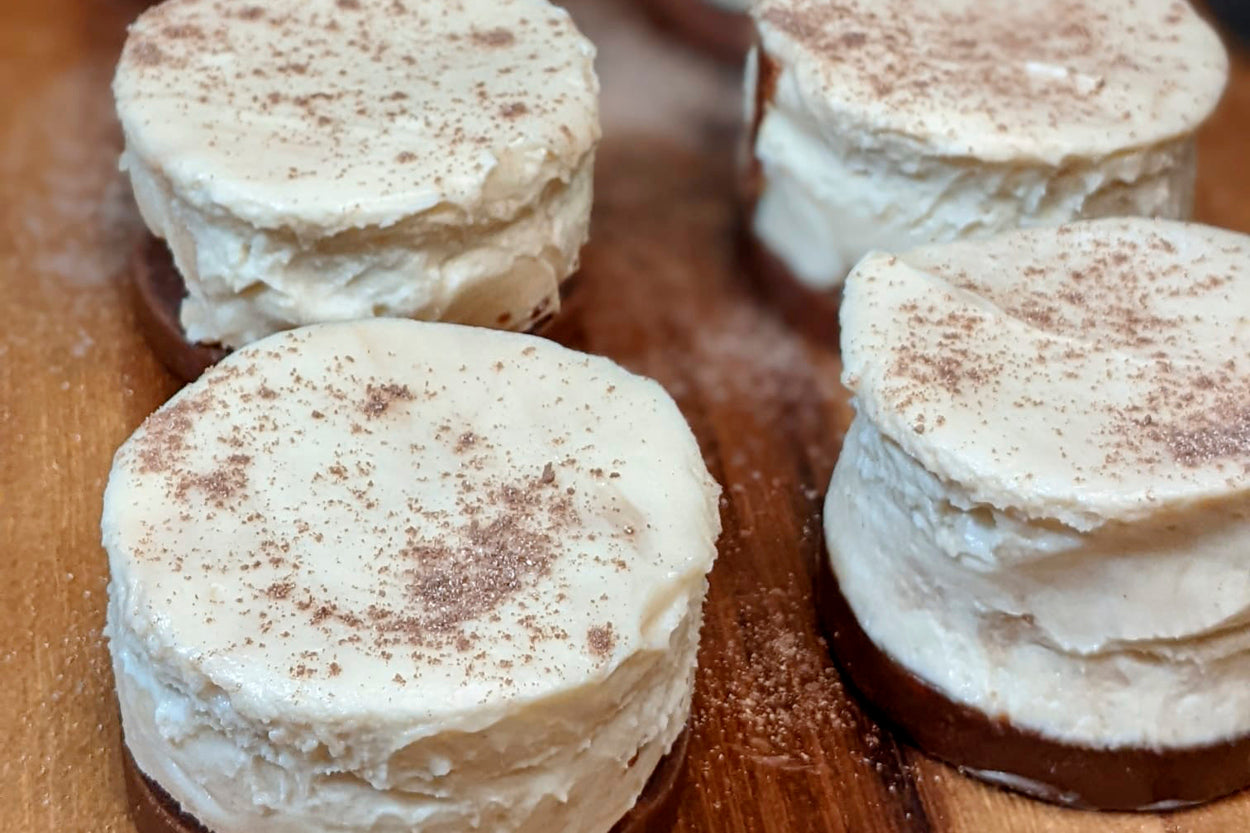 Salted Caramel & White Chocolate Cheescakes - Keto Style!
If you're looking for a tasty keto dessert for Valentine's Day, look no further. These salted caramel and white chocolate cheesecakes are absolutely delicious. 
Mini Cheesecake Bases
Bash the Evabold bars in a bag using a rolling pin until they're a fine crumb. 
Add in your melted butter, and mix again. 
Slowly add the mixture to each of the moulds - pressing down as you go - you want to evenly distribute your base mixture between the mould
.
Put the mini bases in the fridge to set whilst you make the Cheesecake filling.
Cheesecake Filling

Melt the white Keto chocolate until smooth. Set it aside to cool down (approx. 10 minutes). 
Put into a mixing bowl the full fat cream cheese, erythritol and vanilla essence - whisk it until it's smooth. 
Pour in the cooled white Keto chocolate, and whisk again. 
Add the double cream, and whisk again till thick.
Once it's thick, dollop in the Skinny Food co 'Chocoholic' spread - fold through so it creates swirls in the mix!
Taking the bases from the fridge, start to slowly spread the cheesecake filling onto your base, making sure to fill the moulds to the edges to stop gaps forming. 
Pop the mini cheesecakes in the fridge for a minimum of 6-8 hours before decorating (if you want to decorate) I left my mini cheesecakes overnight. 

Once your mini cheesecakes have set, carefully remove each of them slowly from your mould - top tip - push them up underneath the mould until you can see the base and using your fingers gently prise them away under the base.
Decoration 
Whip the double cream and pipe on top of each cheesecake to make additional patterns or swirls!
An easier decoration idea is to add on some simple Keto white chocolate shavings